Shopping Cart
Your Cart is Empty
There was an error with PayPal
Click here to try again
Thank you for your business!
You should be receiving an order confirmation from Paypal shortly.
Exit Shopping Cart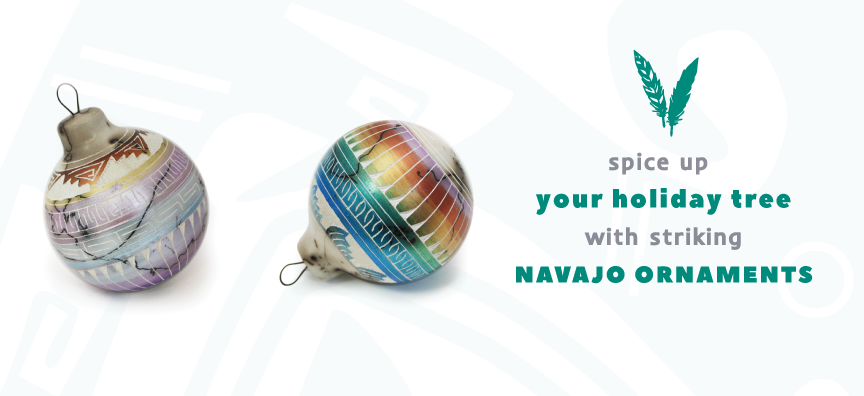 Decorating the Christmas tree is one of the most important time-honored holiday traditions. Like clockwork, stores across the nation are stocking their shelves with the usual garish sparkly holiday bulbs and ostentatious tinsel. But how do you make your Christmas tree go from gaudy to gorgeous?
Make your mark by incorporating an inviting southwest theme to liven up your festivities! By contrasting elegant and authentic Native American art with your standard holiday tree décor, you create a tasteful rustic atmosphere.

LIGHTING
Colored Christmas lights, although fun, can quickly turn your designer tree into a pile visual clutter. The goal with any good design is to elevate the most important ornaments (and colors) to attention. Lights are the first step to complementing your motif, without competing with your visual elements.
SOLUTION:
USE WHITE OR WARM LIGHT, TO BRIGHTEN UP YOUR TREE!
If you want to be eco friendly, LED lights now come in warm tones that look like traditional halogens.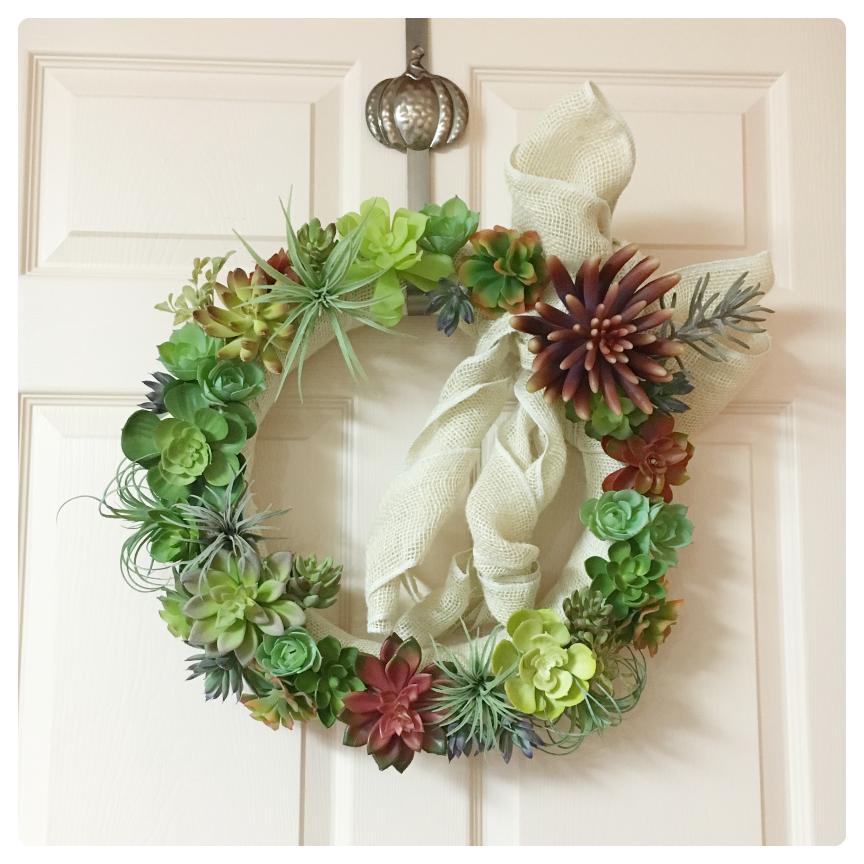 GARLANDS
Tinsel garlands, the staple of Christmas tree decorating, although bright, distract from the elegance of your tree. How do you unify your display while keeping a natural southwestern look?
SOLUTION:
USE BURLAP AS A GARLAND!
Burlap comes in many colors, from neutrals to metallic, making it one of the most versatile materials on the market. Not only limited to your tree, burlap can be used to wrap holiday wreaths as well as a garnish for your dinning table centerpiece.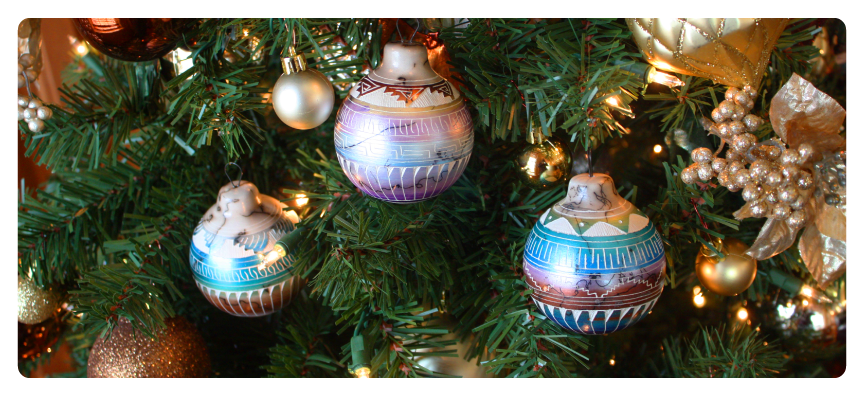 ORNAMENTS & EMBELISHMENTS
Your centerpiece ornaments are the most important aspect of your Christmas tree. But how to you incorporate Native American motifs into your design without falling into the tacky cultural appropriation trap?
SOLUTION:
USE TRADITIONAL NAVAJO ECHED ORANMENTS IN YOUR TREE!
Embellishing your tree with handmade Navajo etched pottery ornaments, is a fantastic way to both support native artists and have an elegant and authentic southwest-style tree. These ornaments come in a variety of designs and colors, matching any home décor.
ADDING TEXTURE:
To compliment your ornaments, try adding texture to your holiday tree by adding faux plants. Faux succulents, air pants, and even traditional poinsettias enhance any tree.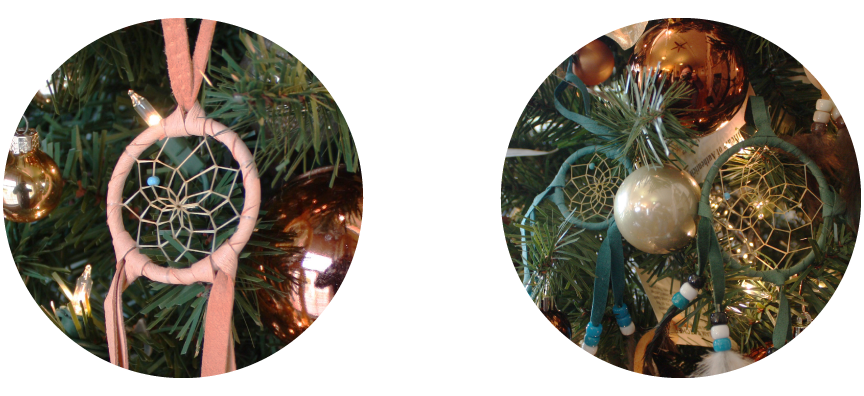 GIFTING DREAMCATCHERS

All of us have budgets to follow, and coming up with personal, but inexpensive gifts can be a challenge.
SOLUTION:
GIVE YOUR GUESTS A PERSONALIZED DREAMCATCHER STRAIGHT FROM YOUR TREE!
Make your gift-giving into an event by adorning your tree with the perfect dreamcatchers for your loved ones. These genuine Native American artifacts create a subtle and elegant visual statement, while making your Christmas celebration more meaningful.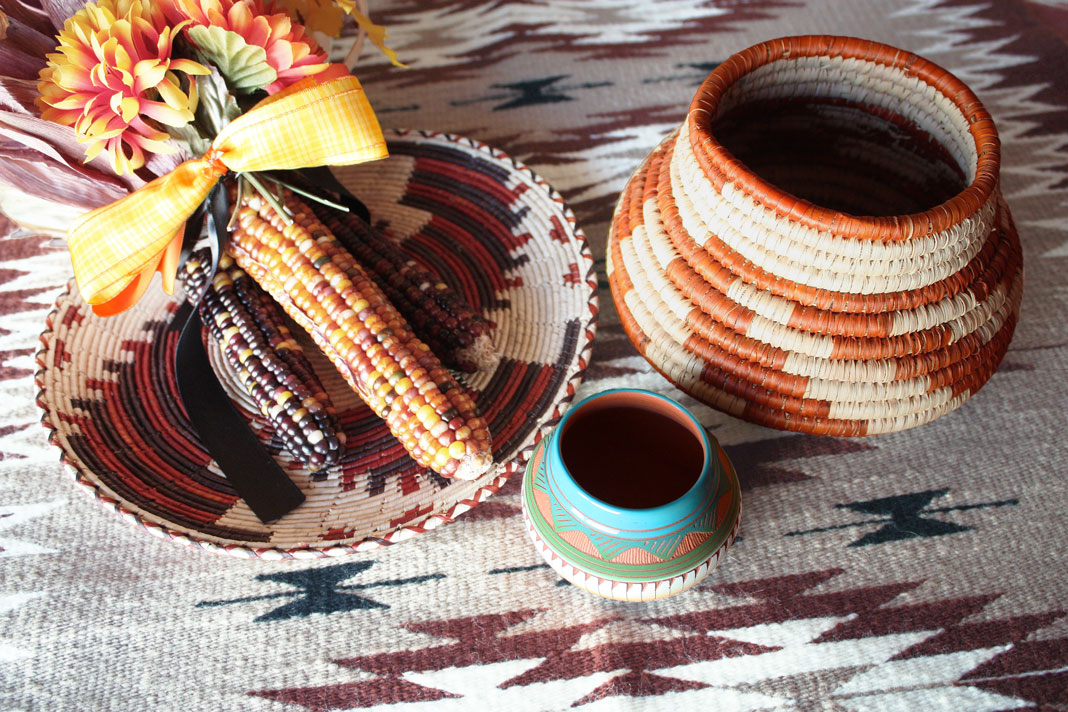 Every year coming up with a fresh take on autumn themes is an important way to forge your perfect Thanksgiving. It is a creative challenge, especially for individuals who want a unique take on this American holiday.

This year Native American designs are HOT! But, how do you integrate your authentic native holiday flair it into your home without overwhelming your already established interior concept?
TIP 1
Keep Your Design Simple
Do not overcrowd your table with elements; this easily overwhelms your design and distracts from the elegant motif of your Thanksgiving table. The more items on your table the greater likelihood of a spill or a broken dish.




TIP 2
Zapotec & Navajo Baskets Are Chic Centerpieces
Lightweight, subtle, and stylish, Native American baskets are a great way to add a little bit of texture and color to you table. These baskets are easy to arrange and come in a variety of shapes and sizes; the perfect solution to versatile decorating.

TIP 3
Embrace Navajo & Zapotec Runners on Your Table
Navajo designs and their geometric features can quickly turn a characterless environment into a festive one.  Coming in a variety of colors these table runners can be bright and energetic accent.
*Important Information*
Navajo rugs are valuable works of art and can be pricey $$$$
Suggestions:
1) Always place a plastic tablecloth over your runner to prevent damage.

2) Hang your Navajo Runner on a wall when it is not in use. This protects the piece and optimizes the decorative value of this beautiful addition to any home.

3) Zapotec runners are good alternatives to the more expensive traditional Navajo weavings. Both pieces have similar motifs, but Zapotec textiles are available at a fraction of the cost. Zapotec runners are an elegant solution to any new homeowner on a budget.


TIP 4

Use Indian Corn to Garnish Your Centerpieces
Indian corn is an economical yet stylish garnish for your spread, adding a spash of color to your fall function. If dried properly, this naturally elegant grain can be used year after year. Corn is also an adaptable solution to decorating the entire home due its refined yet simple qualities. 
/